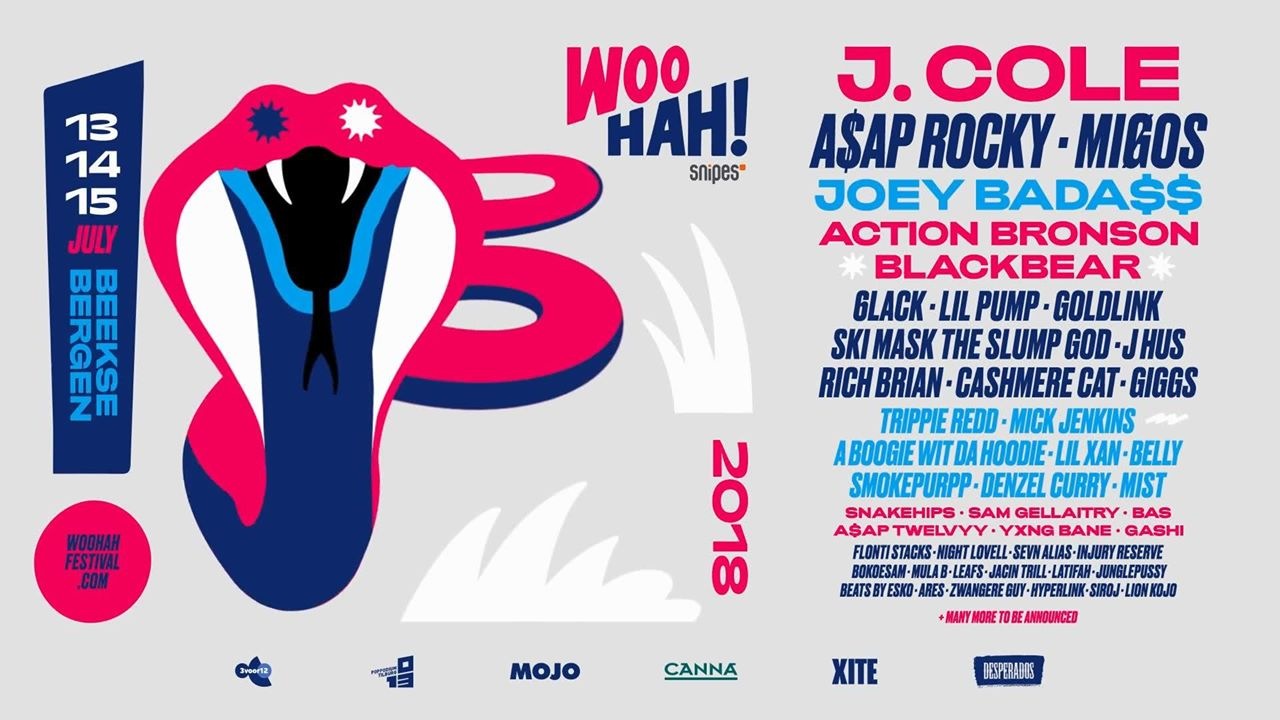 Maude Jonvaux et Sébastien Muzi
Could anyone think of a better way to conclude the World Cup than attending a festival dedicated to hip hop in the Netherlands ? Don't think so…
In mid-July, Dutch festival Woo Hah! celebrated its fifth edition, and least you could say is that its line-up keeps on getting more insane as years go by! In 2017, Woo Hah welcomed acts like Gucci Mane, Mac Miller, G-Eazy, Nas, Rae Sremmund, Post Malone and even Romeo Elvis et le Motel. 2018 was the occasion to go even wider, and gather most of US hip hop current scene on stage.
Naturally, we thought it would be of service that part of our team dedicate itself to drive all the way up there and bring back a hell of a report. Here it is, we will try to make sure that none of what we saw there gets left out of it! Be prepared for rap and good vibes.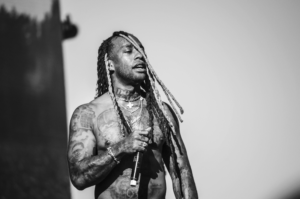 We had just arrived in Hilvarenbeek (close to Tillburg) and already we came to realize that this festival was about something massive, huge range, and completely dedicated to hip hop. Peeps attending festivals usually form a heterogeneous crowd, rather it is about age, music tastes and even fashion, different strokes for different folks. And as the saying goes, it is also part of what makes it fun and enjoyable to go to a festival.
Here, one could say that the atmosphere is slightly apart, as a matter of fact the crowd finds itself harmonized, everything matches, it all comes together, what a sight! With every step you take, there's another battle for the best style, all sneakers's enthusiasts could do was stand and watch… and cry. The path to the campsite happens to be filled with trees, and at this point we take a moment to thank our merciful lord for the little shadow we manage to find. Also, along the way, it is interesting to observe the bands of friends we come across, interesting I say because they all have something in common: they're listening to music, rap music obviously. It is everywhere and it is as surprising as it is valuable. It is as if the vastness of the site meant nothing when you are witnessing this level of intimacy. The age bracket isn't very large, it must be between 18 and 35, top.
It is kind of puzzling to attend and be a witness of Woo Hah! for the first time because there is this defining feature: targeting a public that is exclusively 'hip hop' but at the same time, a public that is amazingly numerous (32 000 people for each day of the weekend).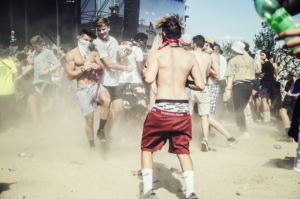 The festival is built around a lake, that is why you have to walk for a good 20 minutes from the campsite to get to the biggest stages, which remains quite reasonable, come on, let's not draw dull complains! In order to not miss a single moment of the tumult, it will be more than mandatory to keep ourselves well organized and meticulous. With that in mind, time has come to head for the first concert: Ty Dolla Sign. The rapper from California, which seems to be all over the rap scene this year, puts on a thrilling show that immediately pushes up the thermostat, making complete sense with the persisting heat of the day. Ty Dolla takes time to look back on his numerous and most recent featuring: Kanye West's latest project, The Carters' album, etc. At some point, youngsters from the public are invited to stage, to share the 'love', hugs and spliff-sharing (reminder: it is completely legal in The Netherlands, no worries). Other festival-goers, with a more laid-back approach of the show, will enjoy the concert from the beach, on the side of the stage. We have told you about the good vibes, right ?
Moving on quickly after Ty Dolla with A$AP Twelvyy at 6.45, it is clear that time is going to fly, the concerts are sorted out by the minute. We are coming closer to 8, and then things will get serious. This Saturday 14th of July will be one for the books, with Migos, 6lack, A$AP Rocky, Joey Bada$$ and Cashmere Cat.
The best surprise from the night will undoubtedly come from Atlanta-based rapper 6lack. With only one album that came out at the end of 2016: 'Free 6lack' and hit singles like: 'PRBLMS' and 'Free', 6lack handed out a true live for an hour. A drummer is by his side on stage, and it changes everything, the outcome is more powerful. 6lack masters his area on stage and adds up deep emotion to his flow, you can guess that he is not always the happiest rapper there is throughout his songs, but he shows authentic profoundness. That will surely lead him places, we cannot wait to see what he will have to offer in the near future.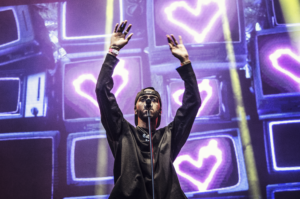 10.30: highlight of the night, a huge crowd starts packing together in front of the main stage to welcome the Harlem-native member of the MOB: A$AP Rocky. Remember we told you about the crowd and the passion that animates it earlier? Well now it all comes together again: A$AP's DJ starts the music and literally everyone starts singing religiously to the lyrics of 'Distorted Records' and 'A$AP Forever' (two songs off the newest album: 'Testing' that came out May 25th). The stage is a replica from A$AP Forever's video clip, with damaged cars and yellow stripes locking down the zone. A$AP Rocky gets on stage in between two flames coming out from the edge of the stage, everyone in the photo pit start sweating a bit, to be honest. As the heat rises, the crowd starts shifting into a mass of legs and arms, like an army that never ceases to sing. It is warm, really really warm, and security keeps its calm and reactivity when confronted to the repeated evacuations at the front row. Shout out here goes to this incredible, unwavering crowd, without it the bittersweet performance delivered by A$AP Rocky would leave us rather bewildered. The rapper isn't really doing his bit, and seems to be happy with barely backing his own lyrics, and by backing we mean yelling on top of them, in between two above-mentioned flames bursting from the stage. Crowd's generosity will not suffice to save this spectacle. It is a bit of a shame for sure, but luckily the night is not over yet!
We are now headed to the Forest Stage for a catch-up session with Joey Bada$$. The 23 year-old Brooklyn-native released his political oriented album: ' All-Amerikkan Badass' in late 2017. First thing to assess is the scenography and it is flawless. It is a real pleasure to be in front of an artist that knows how to pay attention to his entry. The lights are cautiously selected to remind us of those from police cars, tension is building up. Joey Bada$$ quickly proves that he knows perfectly how to deal with the stage and shows clear self-confidence. This kind of act is the reason why there is a neat gap between experienced rappers and artists that saw themselves propelled to a superstar rank in a heartbeat without, de facto, getting to be familiar with a stage and a crowd. The song 'Rockabye Baby' works like a remarkable crackdown as an opener, it sets the tone for the rest of the concert. Joey Bada$$ has become a master at turning his darkness (maybe inherited from his Brooklyn background) into something that distinguishes him from his fellows. The show comes to an end with the song 'Devastated', which has become an anthem for the Bada$$ fanbase, success is complete.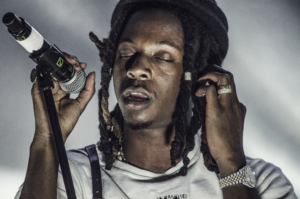 Clock is ticking, it is now past midnight, which leaves us enough time to go check Cashmere Cat's performance on a remote stage, and then walk our way back to the campsite.
Sunday starts by pulling us out of sound sleep with a ruthless sun over our heads, we take that as an invitation to take a walk on the beach. Yet again, Woo Hah! knows how to treat us like kings. Here, it feels like the south of France, and our feet are buried in the sand. We have a massive day ahead of us, let's not indulge ourselves too much, it is only the calm before the storm…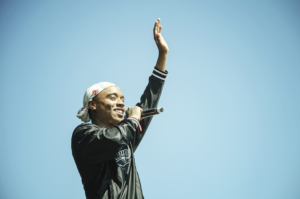 At 3.30, Rejjie Snow kicks off the day and puts the thin crowd on a good vibe, thanks to songs like: 'Egyptian Luvr' or the very Gainsbourg-inspired: 'Désolé'. With every new rapper coming on stage since Saturday, there is a question that comes to our mind, we get the attitude, Supreme sweatshirts, coats and the successive layers of fine clothes… but how ? Did they hide air-conditioning units all over the stages to have them handle heat like this?
Excitement is in the air for the hundred (give or take) French festival-goers. French flags start coming up in the air, the event is historic enough for us to take time to join our fellow compatriots in celebrating this World Cup, 20 years later. Woo Hah! has it all planned and a giant screen is set close to the Snipes Stage. Classy!
At 7.00, it is time for Denzel Curry to let the big cats loose on the Forest Stage. The Florida-native quickly starts crossing swords with a pumped-up crowd, mosh pits are triggered around us, making the dust rise. Sandstorms make the air thick, the mood turns to apocalypse and it all comes together with the energy that Denzel Curry unleashes on stage. Headscarfs and dusty skins make it all very 'Madmax' around here. The setlist acts a teasing for the new album: 'TA13OO' (out on July 27th), with interludes and tributes to recently deceased XXXTENTACION and recently still very alive System Of A Down. Speaking of the latest, mighty Denzel Curry treats us with an incredible 'Chop Suey!' cover, proving at the same time that he can hold his head high next to Serj Tankian and his vigorous flow. The song 'Black Metal Terrorist' closes this powerful performance and the public is both exhausted and thrilled.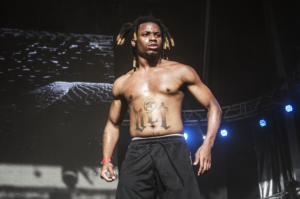 Next on is Lil Pump on the Snipes Stage. The Louis Vuitton-dressed rapper arrives on stage with a mere 30 minute lateness, but the public is not disheartened and shows iron will. We have hardly ever seen such level of determination, you beautiful crowd ! Lil Pump's concert remains short, with 10 songs and another tribute to X. It is impressive to see how his death rallied everyone, we are witnessing thousands of arms crossed in the air, with a blue sky in the background. Respect is paid. Shortly after, 2018's 140 BPM rap anthem: 'Esskeetit' puts everyone in unison, yet again!
It is now 9.00, time to regain our strength and enjoy Juice Wrld from afar. The rapper puts on a great show on the Forest Stage. Originally, Action Bronson and then Tekashi 6ix9ine were supposed to be on stage for this slot, sadly they are respectively injured and incarcerated at the moment, well then. At least, it gives us time to prepare our minds for the climax of this dense festival.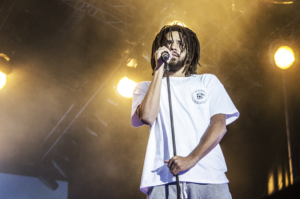 Right on time, it is 10.00, J. Cole and his band get on stage. The Dreamville dream team rapidly make everyone see eye to eye. Everything for this concert is thoroughly considered, the musicians and the choir work hand in hand and J. Cole disseminates his lyrics with ease and exactitude. The first song happens to be the new album's outro: 'Window Pain', and although 'K.O.D.' was only released in April, it does not take more than the cymbals drops for the crowd to recognize the song and shout. Throughout the concert, Cole navigates across his greatest hits and albums, takes time to tell stories to the public as he walks around, he occupies the whole stage beautifully. Next on the menu is 'A Tale of 2 Cities' followed by 'ATM' and its 'Count It Up' that make the heads bang. The performance goes crescendo with 'Kevin's Heart', 'Work Out', the personally-inspired 'Neighbors' and then reaches the highest of highs with 'Love Yourz'. For that song, Cole decides to sit in front of his audience, asks for everyone to put their flashlights up and the musicians start playing softer, what matters here are the lyrics, his introspection and spirituality, and how he shares it.
It takes a full knowledge for an artist to be able to take a crowd on a journey like this, make it go through different moods, it is like a rollercoaster. It is not up to everyone, Cole has become a master at this. The impressive setlist of almost 20 songs is a blend of every reflections the rapper has come to have, slowly we realize that it all makes sense together, there is a thread running from the beginning to the end. We can barely get a hold of ourselves, knowing that there are still emblematic songs from the rapper to be played before the curtain call. It is all there: 'Wet Dreamz', 'G.O.M.D.', a stripped-down version of '1985' aimed at the fresh, current rap scene in the US (funny considered that the biggest part of said scene was playing during the festival). Here, Cole talks to the new generation, and he is legitimate in this position because he has been in there for 10 years. Finally, 'No Role Modelz' resonates in the air, and it is truly mesmerizing.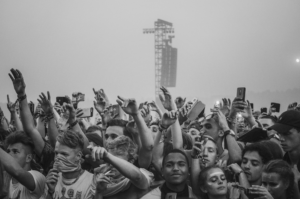 Woo Hah! is that huge and dense that we barely had time to enjoy the many other activities that the festival had to offer! There was a skatepark with contests and DJs all day long, showcases at night, paddle boats, small hidden clubs with the latest trends in music being played on turntables, food trucks to suit all possible tastes (special shout out to the guys that prepared the gyros with seitan, you are wizards), merch stands, even hammocks to nap and a lake to bathe!
We have given it extra thoughts, and it appears logical to us that we need to be back next year, and make sure to soak everything up like sponges. Everything being said and done, it is now time to drive back home and rest all of our senses.
PS.: We must confess we indulged ourselves in the car and sang 'We Are The Champions'… do not be too hard on us, and do not worry Woo Hah!, you win the cup for best organization by far. It was perfect.
Until next year! 
You can find all the pictures from Woo Hah! in HD !
If you want to go through Saturday with us (Ty Dolla Sign, A$AP Twelvyy, Migos, 6lack, A$AP Rocky, Joey Bada$$) click here.
And if you would rather see everything from Sunday (Rejjie Snow, Denzel Curry, Lil Pump, Juice Wrld et J.Cole), click here.